RIVO ART262 BOOKSHELF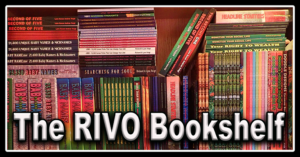 LYNN & RICHARD'S PERSONAL PUBLICATIONS
OF INSPIRING & MOTIVATIONAL THOUGHTS,
MEMIORS, BOOKS & PERSONAL JOURNALS
NOW AVAILABLE ON AMAZON:
CLICK ON any BLUE LINKS Below to view more information
RICHARD'S UNIQUE APPROACH TO DOODLING & DRAWING TECHNIQUES:
So Much More Than Just Another Coloring Book
50 Creations For Professionals & Children Of All Ages
50 Creations For Professionals & Children Of All Ages
As retired Milwaukee Public classroom teachers, my wife Lynn and I have created dozens of very unique on-campus courses for the Osher program at the University of Wisconsin – Milwaukee, local public libraries and Waukesha County Technical College's exciting 'Learning In Retirement' (LIR) Program.
And for many who have asked, yes, in additional to creating art, gardening and teaching, we find time to write, compiled and self-published each of the following books, memoirs and personal journals over the past several years.
We wanted to inspire our students by example of what it means to value, record and act upon the everyday events taking place in our daily life by writing at least 5-7 minutes as a discipline. The following publications are the result.
Perhaps one of our books, memoirs or journals will inspire you to rethink what's really important and gives you the confidence to take your life in a brand-new direction as a published author. Why not give it a try and see what can happen.
The proceeds of any Amazon purchase from our book collection, while very meager, helps support our artistic, publishing and Wisconsin Garden missions. They also great gift ideas for family and friends.
We thank you in advance for our fundraising support.
HERE ARE MORE GOODIES TO ENJOY
OUR FAMILY-FRIENDLY GARDEN JOURNALS:
For A Year Of Amazing Discoveries
400 Garden Quotes From The Earth To Your Soul
What's Growing In Your Garden?
A Colorful Journal About Gardening & Gratitude
901 Garden Poems, Quotations & Classic Words Of Wisdom
Promoting Delicious, Healthier Home-Grown Fresh Food, With Tools, Tips, & Ideas That Inspire Gardeners!
LYNN & RICHARD'S PERSONAL BOOKS, MEMOIRS & ART PUBLICATIONS:
Lynn's 1st Memoir – Second Of Five
My Early Years – From Birth To High School – Episode 1
Lynn's 2nd Memoir – Two Become One:
Dating, College, Teaching & Marriage – Episode 2
Lynn's 3rd Memoir – Second Of Five Again
Raising 3 Children And A Husband – Episode 3
&
Lynn's Incredible Family Shoebox Find
WWII Love Letters – Jim & Rachel Andrae Family
1943-1945 Letters, Photos & Other Wartime Communications
 &
OUR PERSONAL PUBLICATIONS OF INSPIRING BOOKS & PERSONAL JOURNALS:
The Golden Vault Of Motivational Quotations
Words Of Wisdom From The Greatest Minds & Most Inspiring Leaders On The Planet
Finding Your Voice
Inspire Happiness, Success & Clearer Understanding of Life
Examine 275 Core Beliefs That Rediscovers Life's True Meaning
500 Inspirational & Motivational Quotations About Soul
My 30-Day Journal Of Self-Directed Adventures – Full Color
Recording A Meaningful, Satisfying & Fulfilling Life
Loving Relationships, Health, Financial Independence & So Much More – in Full Color
Attracting More Joy & Happiness Into Your Life
For Young Girls Who Love Having Fun
For Men On A Success-Oriented Mission
Experience The Magic Of Keeping A Gratitude Journal
The Magic Inside A Gratitude Journal
Experience The Endless Gifts Of Life
Journaling Your Lighthouse Adventures
Love, Hope & Dreams
Confronting  Worry, Anxiety & Fear To Live Happier
Turning Outrage Into A Power Tool For Change
Make Your Wishes Come True
Record Your Visions Before They Disappear
JOURNALS THAT RECORD YOUR FAVORITE RECIPES IN ONE PLACE
A Journal For All My Favorite Recipes
A Journal For All My Favorite Recipes
A Journal For All My Favorite Recipes
A Journal For All My Favorite Recipes
A Journal For All My Favorite Recipes
A Journal For All My Favorite Recipes
A Journal For All My Favorite Recipes
A Journal For All My Favorite Recipes
HERE'S OUR COLLECTION OF BUSINESS & PERSONAL PUBLISHED BOOKS
Pursue Your Passion Now – A 30-Day Challenge
8,400 Great Cliches – For Sport Fanatics & Lovers Of Popular Expressions
6,450 Popular Expressions That Put Words In Your Mouth
Warning – This Book Teaches You How To Grab Eyeballs
5,000 Marketing Phrases That Sell
Access A List Of 10,240 Career Paths That Can Change Your Life You Probably Never Heard About Until Now
This Is A Monster Book Of 175,000 Words That Paint Dreams, Sell Ideas And Market Your Message
15,800 Curious Words That Challenge Your Mind & Expand Your Thoughts
100 Ideas That Can Add Unlimited Subscribers To Your List
36,000 Baby Names & Nicknames,
11,250 Name Origins & Meanings &
2,000 Of The Most Popular Names
The above are just some of our listed publications.
Feel free to return for additional updates.
P.S. ADDITIONAL AUTHORS WHO
LYNN & RICHARD HELPED PUBLISH THEIR WORKS:
Raw & Enlightened Handwritten Prose
by Marvin Louis Beauchamp
His Second Collection Of Handwritten Prose
Tangible Thought Concrete Feelings
by Marvin Louis Beauchamp